PEDI VAC no mess callus and dead skin remover
$10
Electric Foot Grinder & Dead Skin Callus Remover
Experiences the best ever callus and dead skin removing solution that leaves your feet silky smooth.
 No time to visit the salon for a pedicure? 

 Do your cracked feet affect your appearance?
 Pain from cracked skin?
No more mess and painful scrapping, grinding, and grating. Watch in amazement as PEDI VAC blast through dead skin and hard to remove calluses.
Get 
salon-grade results
 without leaving your sofa with PEDI VAC.
The nano-abrasion head rotates at high-speed i
nstantly removing 
calluses, dead,
 or dry skin from 
hands, toes, soles, and heels.
 Dual-speed
 

(1700 RPMs and 2000 RPMs)

 

suitable for all skin types and gives you

 

the best results. 




 


Don't get FOOLED by the cheaper version with no vacuum. PEDI VAC vacuum system and removable grinding head makes cleaning super easy.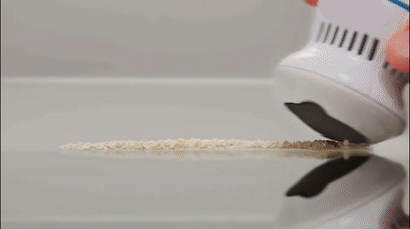 KEY BENEFITS OF THE ELECTRIC FOOT GRINDER
SALON RESULTS: Why are you risk hurting yourself with that old heel scraper for feet or callus remover chemicals when you can easily get professional results in your home with our electric foot callus remover.
POWERFUL FOOT CALLUS REMOVER: Effortless remove dead skin and hard calluses with 2000 RPMs of power - nano-abrasion heads rotate at high speed creating the perfect dead skin remover for feet.
INSTANT RESULTS: Watch in amazement as our electric callus remover for feet blasts through dead skin and hard-to-remove calluses, revealing smooth skin - and with a built-in vacuum, there's no mess! With you'll no longer have to suffer dry cracked heels in-between visits.

 

Now you can have pedicure-worthy feet Whenever you want.

USB RECHARGEABLE BATTERY:

 

 

You save money over time because there are no batteries to replace. 

Take it in the car for sandal-ready feet at the beach or to the office to touch up cracked heels in between meetings.

Portable Foot Electric Vacuum Adsorption Foot Grinder:




You can take the small Portable Foot Electric Vacuum Adsorption Foot Grinder, 

A special gift for your family and friends.
PEDI VAC no mess callus and dead skin remover
Description

Electric Foot Grinder & Dead Skin Callus Remover

Experiences the best ever callus and dead skin removing solution that leaves your feet silky smooth.

 No time to visit the salon for a pedicure? 


 Do your cracked feet affect your appearance?

 Pain from cracked skin?

No more mess and painful scrapping, grinding, and grating. Watch in amazement as PEDI VAC blast through dead skin and hard to remove calluses.

 

Get 

salon-grade results

 without leaving your sofa with PEDI VAC.

 

The nano-abrasion head rotates at high-speed i

nstantly removing 

calluses, dead,

 or dry skin from 

hands, toes, soles, and heels.

 

 Dual-speed

 

(1700 RPMs and 2000 RPMs)

 

suitable for all skin types and gives you

 

the best results. 




 



Don't get FOOLED by the cheaper version with no vacuum. PEDI VAC vacuum system and removable grinding head makes cleaning super easy.


 

KEY BENEFITS OF THE ELECTRIC FOOT GRINDER

SALON RESULTS: Why are you risk hurting yourself with that old heel scraper for feet or callus remover chemicals when you can easily get professional results in your home with our electric foot callus remover.
POWERFUL FOOT CALLUS REMOVER: Effortless remove dead skin and hard calluses with 2000 RPMs of power - nano-abrasion heads rotate at high speed creating the perfect dead skin remover for feet.
INSTANT RESULTS: Watch in amazement as our electric callus remover for feet blasts through dead skin and hard-to-remove calluses, revealing smooth skin - and with a built-in vacuum, there's no mess! With you'll no longer have to suffer dry cracked heels in-between visits.

 

Now you can have pedicure-worthy feet Whenever you want.

USB RECHARGEABLE BATTERY:

 

 

You save money over time because there are no batteries to replace. 

Take it in the car for sandal-ready feet at the beach or to the office to touch up cracked heels in between meetings.

Portable Foot Electric Vacuum Adsorption Foot Grinder:




You can take the small Portable Foot Electric Vacuum Adsorption Foot Grinder, 

A special gift for your family and friends.

 




Reviews